BLACKPINK's "How you like that" has got to be one of my favorite songs in their discography. Despite it not getting that much praise, I still love the song till this day. The one thing that I loved from this song was the M/V. The way they created the scenes with the props, the members' acting and charisma, After a lot of research and finding various videos about it, I've come to a conclusion. In this blog, I will be explaining small hidden meanings and explaining scenes of the Music video. Let's get into it!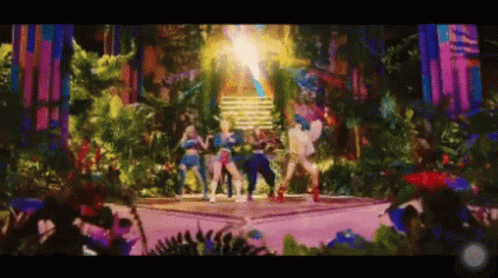 1.The first scene, Lisa appears in a mysterious temple. When you notice on top of the scene, there is a body which is amputated with big black wings ( in greek mythology, that is the goddess nike). When Lisa and Rosé Stepped out, the message was clear "the girls don't need any goddess to rely on, they will be the goddesses of their own lives".
We see Jennie with a diamond tear on her cheek symbolizing the pain and sadness in a body of water, then we notice Jennie with an elegant look and umbrellas covering her.
3. As we notice that Jisoo was leaning on a wall full of blood.
In the latter half of the M/V, we see Jisoo with flower band on her eyes, which refers her to the goddess of justice, Themis.
4. Now Let's go to Rosé , we notice that she is in a dark cave with full of ashes and dirt and then showing up in a flower forest? what is going on? let's find out!
This particular scene can be easily referred to the story of the greek goddess Persephone, it means that they have to go through months of darkness before tasting glory in the months of autumn and spring.

5. In the next solo scene of Lisa, we see her amazing swag in the middle of an arab market, this can also refer to the story "Aladdin and the magic lamp" where she is dressed as Jasmine . There is also a donkey behind her which is an arab symbol, symbolizing stupidity.
5.We see Jisoo with a red outfit and burning umbrellas, holding a long list of enemies. When we noticed in Jennie's scene there were black umbrellas, it means they are overprotected, but in Jisoo's scene, we see the umbrellas burning down meaning they don't need anyone to rely on.
Finally, we notice in the lyrics in the last scene, it says "look up in the sky it's a bird it's plane" it was a phrase in the old superman movie, 'stamp day for superman'. During the dance break, if you notice in the black dome, the continents were carved in the color of black with beaming pink lights, symbolizing their popularity and how they are going to take over the world with their music.
And now we've come to the end of the blog. I hope you enjoyed this theory. This theory is purely based on other videos and what their theories are on the scenes of the music video, it has not been confirmed by the agency yet. If you want to support this blog, leave a like, comment or follow me to see more blogs like this and much more fun stuff. Until then…. Bye now!